Central Bank Informs Public on Proposed Credit Reporting Bill
By Kathryn Campbell -
BIS
: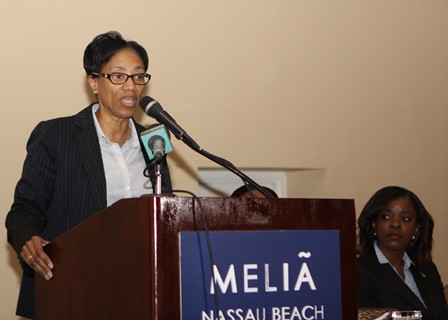 Wendy Craigg, Governor of the Central Bank of The Bahamas, addresses the Information Session. (BIS Photo/Patrick Hanna)
NASSAU, The Bahamas -- The Central Bank of The Bahamas in conjunction with Bahamas Development Bank and Bahamas Mortgage Corporation hosted an information session on the proposed Credit Reporting Bill 2014 and the Credit Reporting Regulations 2014 at Melia Nassau Beach Resort, Cable Beach, Wednesday, February 11th.
Presenters included Wendy Craigg, Governor of the Central Bank of The Bahamas; Rochelle Deleveaux, Legal Counsel at the Central Bank of The Bahamas and Kevin Burrows, Senior Vice-President, CFAL.
According to the Governor, the purpose of the meeting was to inform the community of how the initiative will impact lending activities in the future and to inform customers and borrowers what to expect when the bill becomes operational. The credit bureau will be responsible for collecting information on consumers' borrowing and bill paying habits. The information is relayed to lenders to enable them to assess borrowers' credit worthiness.
The Governor opined that the planned introduction of the credit reporting system in The Bahamas is one of the most "transformational" initiatives in the financial sector.
She explained that a credit bureau is not only important for lenders, but it is also a utility to safeguard and help with the overall financial system. Operating without a credit bureau results in the lenders taking on "more risks," she said. "Experience has shown that persons are not always forthcoming about the total amount of debt they have," she said. "They tend only to disclose what would allow them to qualify for the loan. So within our current system the person may obtain a loan from one institution and move on to another institution and this is within the formal working environment. Then they could get other consumer installment credit from the furniture store to the car store and none of the lenders are [aware of the scope of the consumer's indebtedness]. This is so because there is no centralized system that allows for information sharing of credit."
She said when individuals experience a downturn in the economy, loss of employment, reduced workweeks, they find it difficult to meet their debt obligations.
"It is only when the lenders have to reschedule the debts to more manageable terms that they get a better idea of the credit exposure of these individuals."
The Governor noted that since 2005 there has been a "significant spike" in the level of loan arrears or bad debt. She said such high amounts place "stress" on the financial system and retards future lending.
"As the institution responsible for promoting the stability of the financial system, we have an obligation to ensure that the appropriate mechanisms are in place to mitigate any risks in the financial sector. The intent is not to prevent persons from accessing credit but through this information sharing session to support safer and more responsible lending," she added.
February 12, 2015
Bahamas.gov.bs